Our Veterinarians
Proudly serving the Pocatello area, the Alta Animal Hospital team of skilled veterinarians welcomes you to our practice. At Alta Animal Hospital, it is our daily privilege to provide quality vet care to your cherished pet, with compassion and competence. We hope to ensure a positive impact on our patients, pet owners and the local community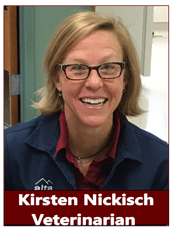 Dr. Kirsten Nickisch
Dr. Kirsten Nickisch obtained her veterinary degree from Colorado State University in Fort Collins, Colorado. After graduating in 2001, she returned to Pocatello to join Dr. Fairchild at Alta Animal Hospital and has been practicing full time here ever since. Her interests are in soft tissue surgery, dentistry, and ophthalmology. In July, 2007, Dr. Nickisch became the clinic's managing veterinarian and is committed to Alta's long tradition of quality patient care. She enjoys travelling, long-distance trail-running, and skate-skiing. She is usually accompanied by her dog.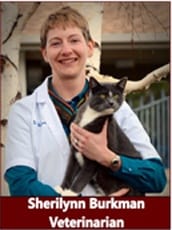 Dr. Sherilynn Burkman
Dr. Sherilynn Burkman earned her Doctorate of Veterinary Medicine from Colorado State University in 2003, along with certification in Veterinary Medical Acupuncture. Dr. Burkman is also the only Veterinarian in Southeast Idaho who is certified in Acupuncture.
She practiced in Arizona prior to relocation to the great state of Idaho. Dr. Burkman's special interests include internal medicine, infectious disease, ophthalmology, emergency medicine, dentistry, the human-animal bond, and grief-support. She is an active member of the Eastern Idaho Veterinary Medical Association, and serves on the Board of the Idaho Veterinary Medical Association.
Dr. Burkman and her husband, Josh, are the proud parents of Jaedynn. The family has two energetic herding-breed dogs and one special-needs cat. Outside of the clinic, Dr. Burkman enjoys running, cycling, travel, hiking, backpacking, zip lining, tile-setting, and building various projects. Please help us in welcoming Dr. Burkman to our hospital!
Dr. Daniel Richardson
Dr. Dan Richardson earned his Doctor of Veterinary Medicine in 2009 from the Oregon State University College of Veterinary Medicine. He has practiced in Nevada, Utah, Alaska and now Idaho. He and his wife have family ties to the Pocatello area. His specific interests are in orthopedic surgery (he is TPLO certified), soft tissue surgery, trauma and wound care. He also enjoys routine healthy pet exams.
Dr. Richardson enjoys the outdoors, and spending time with his wife, Annie, and their daughter, Taylor.